1,240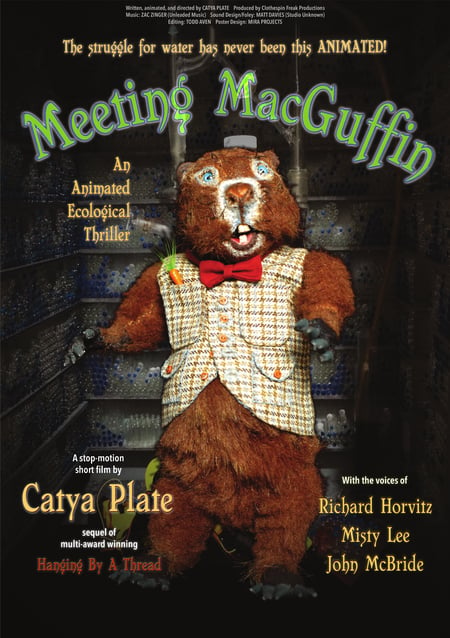 Meeting MacGuffin
Meeting MacGuffin is the second installment in a trilogy of stop motion animated short films.

In the post-apocalyptic future a group of scientists and an animated sign

complete the construction of a new human race. They meet a groundhog
climatologist who prepares them for their mission to restore balance to
the decimated Earth.
Awards

Black Maria Film and Video Festival (Winner Jury's Citation Award), US, 2019 ; Rhode Island International Film Festival ,Vortex, (Winner Grand Prize Best Animation), US, 2017; Scandinavian International Film Festival (Best Animated Film), Finland, 2018 ;Queens World Film Festival (Lois Weber Award), US, 2021; Seattle True Independent Film Festival (Best Animated Film), US, 2017; Other Worlds Austin SciFi Film Festival (Best Short Production Design), US, 2017; Milledgeville-Eatonton Film Festival, (Best Animated Film), US , 2019; Jim Thorpe Independent Film Festival (Best Animated Film), US, 2019; Fano International Film Festival (Winner Special Mention), Italy, 2018; Big Syn International Film Festival, (Winner Special Mention), London, 2020;

Director

Catya Plate

Producer

Catya Plate

Cast

Richard Steven Horvitz (voice, ) Misty Lee(voice), John McBride (voice)

Release date

2017

Country

United States

Genre

Animation